Why is RAN automation necessary?
With the increased demand for 5G and CI/CD processes, there are numerous release versions by vendors and many of the MNOs are still using traditional manual methods which increases the time to market the new features and bring benefits to network users. Indeed, Rant solution has a strategic plan of test reporting and careful planning of test cases. Along with the RantCell RAN automation operators can significantly reduce the time to market of new features.
Leveraging CI/CD automation in 5G will let MNOs manage complex tasks with the same amount of people enabled with different capabilities resulting in less operational expenditure, enhanced software quality, and expedited deployment. Telcos need to adapt themselves to the agile method of working, leaving behind their traditional methods to enable rapid transformation and reap business value. Hence 5G RAN testing needs to be automated and telcos need to have a strategy to adopt intelligent RAN automation tools.
RantCell automation features
RantCell has taken a best of everything to automate RAN Testing, from continuous loop test to AI/ML based automation capabilities.
Let us dive into an example of MNO lab setup use case:

Download RantCell automation features Document
Try our 7 days Free Trial
Uninterrupted Continuous loop test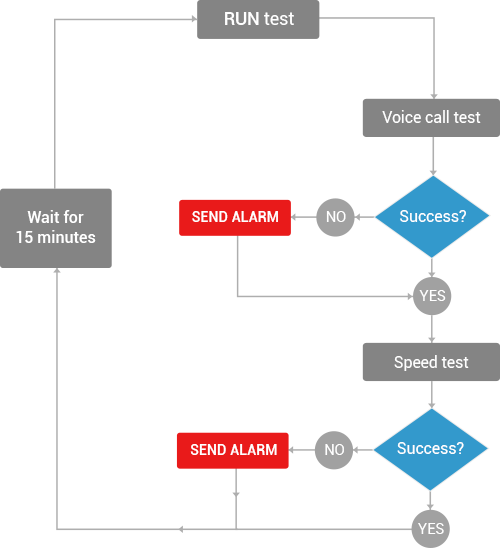 RantCell Solution has introduced a feature called continuous test, which is automated tests based on user-specified intervals example 15min,30min, on any selected network performed by the RantCell pro app in an indefinite manner. While tests are running users will receive alert email notifications in any test failure or notifications can automatically expedite to trouble ticket solution. This type of automation is highly useful, for example, in 5G RAN testing environments where there are always changes in RAN software or any other core elements, RantCell solution can swiftly identify if there are any network failures from end-user perspective and notifications can be channeled to right operators' teams who are responsible for corrective actions. This type of automation is also useful for operators to carry out testing in production environments.
Wondering what if there is No Network or if it is a test scenario failed?
Yes, under these scenarios' the solution can notify users of any outages in the network. Any test failures will also be notified.
Example configuration on our system.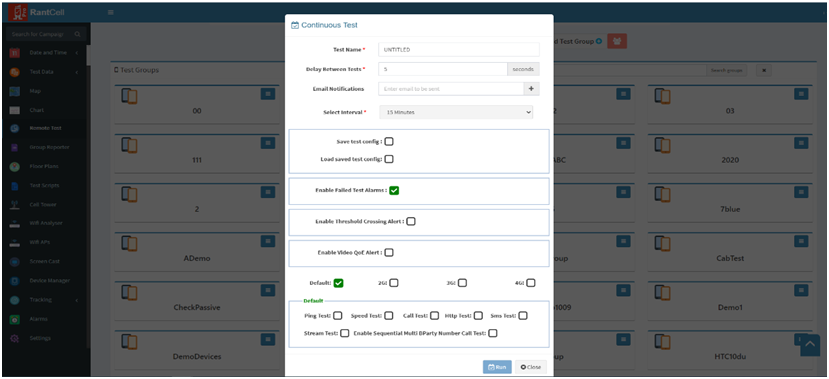 Improve your test efficiency with Day-wise scheduling
Day-wise Schedule test is another automation feature that allows the users to schedule tests on any day of the week and time on a single device or a group of devices. Compared to continuous tests on RAN Network, this feature offers variation in test scripts, for example, users can select Video testing to be carried out on the 5G network at peak hours such as 7 pm and voice call tests in mid-night, etc.
Schedule test allows the user to take the specific test at the required time on remotely located devices with RantCell Enterprise App. Ping test, speed test, web test, video and HTTP test Call tests are the test that can be scheduled on a specific group having more than one or more devices.
Does RantCell allow multiple tests on the same day?
Yes, it's possible as shown below, every Monday following set of tests are triggered on one or group of devices.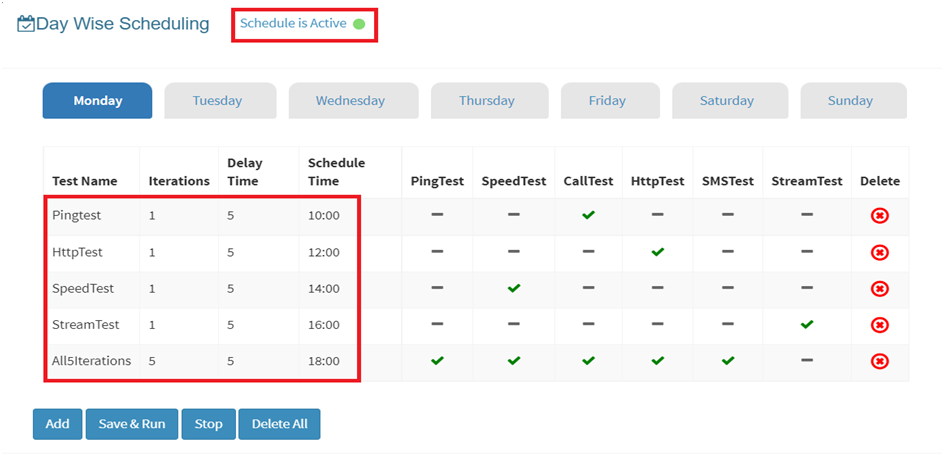 RantCell Solution as a 5G RAN Load Tester
The solution can also be used to control 100+ real 5G devices to trigger either on-demand iterative tests or periodic upload and download tests to stress the 5G network. Specifically useful to perform soak testing of new software builds of 5G RAN node or any other software updates of network elements that might have an impact on end-user performance. Can also be used to benchmark performance pre and post software updates or configuration changes.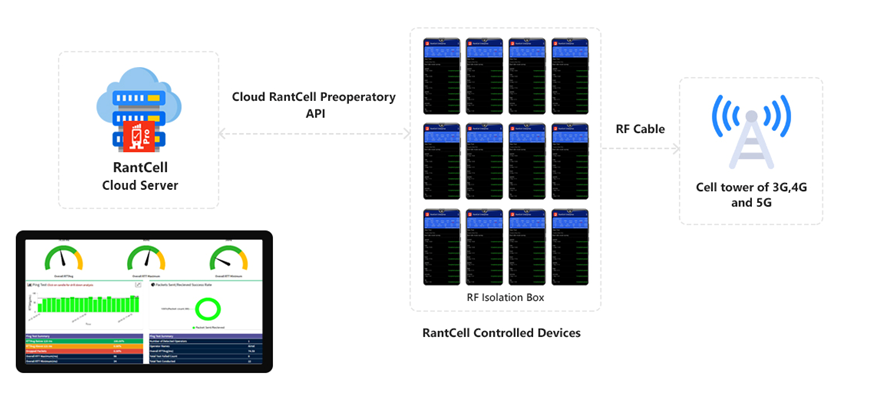 Can RantCell Solution App Save time and Cost?

Seemingly yes, RantCell Pro is supported on the android device that is reusing existing farm of the device from older to latest device models, which reduces the investment of test phones.

As a Web-based Interface with no additional software that needs to install on laptops.

Scheduling the test and analysing complex test cases is easy with the RantCell Solution dashboard GUI. With thousands of Mobile Test Scenarios having Individual Mobility reports can be created quickly and executed with a single click.

Real-time upload of data holding best UI analytics with KPI report dashboard.

RantCell Pro can generate PDF-based reports and provides automated alerts on test failures.
Deploying RAN automation to fulfil critical telecom demands
RAN automation capabilities are yet to be unfolded as majority of MNOs are not well versed with the power of automation in their networks. RAN automation platforms with cutting-edge enhancements like Artificial Intelligence (AI) and Machine Learning (ML) on RantCell are paving the way to achieve maximum automation maturity and can map technical requirements to end-to-end network functions service chains, delivering customized fit connectivity to each user. Leveraging automation and the use of CI/CD technology, MNOs will be able to expand their capabilities and give the best network services with telecom automation testing tools to play a great part in this race and become one of the best mobile networks service providers.
How can automation testing reduce time efforts?
Below is an example showing a reduction in time efforts (in days) by applying well adopted and customised RantCell automation suite to reduce time and efforts.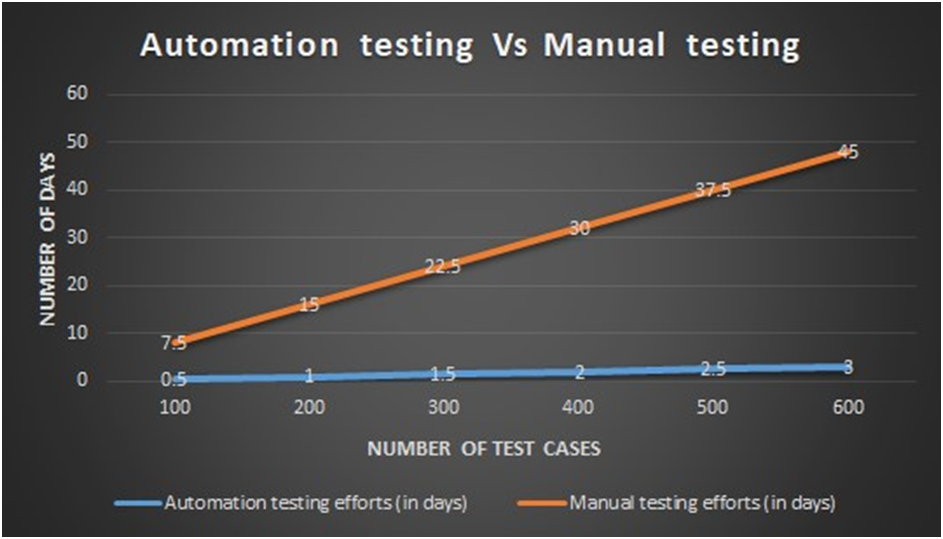 The above graph shows the number of days required to execute 600 test cases in each of testing as mentioned.
Here, we have assumed 600 test cases to be performed by 3 RF engineers in 1.5 months whereas performing it via RantCell automated solution can reduce manual efforts to just 3 days.