How to perform a 4G speed test effectively in 2020 amid this ongoing pandemic?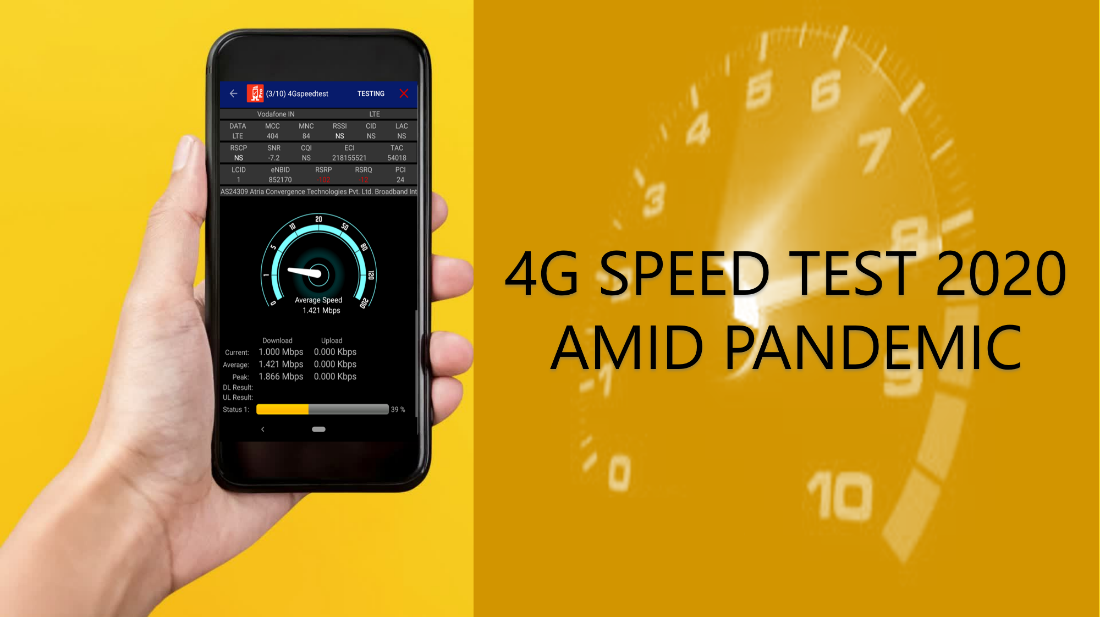 As the world stepped into the new year of 2020, the origination of novel coronavirus created a havoc in the entire ecosystem and has been voraciously spreading around the world. Significantly, the storm of COVID-19 bounded people to stay-at-home and businesses were forced to work remotely, exploding the demand for 4G network usage.
4G speed test is crucial in the digital era

The telecommunication industry has achieved a huge success in delivering innovative technologies, helping people to stay connected. In this era of digitization, more and more people including businesses are going online. This is placing an increasing demand for a feasible mobile network connection like the 4G network to meet their needs. With faster mobile network connectivity and accessibility from any device, 4G technology is an ideal solution to serve such demands like video streaming, gaming, accessing social networking websites.
Hence, it is important for telecom operators to perform 4G speed tests for better user experience and optimize the mobile network for better connectivity.
Rise in the mobile network usage and drop in 4G LTE download speeds during coronavirus outbreak

While researching about the MNOs, we found some interesting statistics that proves a sudden surge in the mobile network usage and decline in the network speed:
Since businesses have started shifting towards remote working, Video conferencing applications like Teams, Skype in the UK are garnering huge attention from the top business leaders. For e.g. U.K. based telecom company EE's mobile network usage increased exponentially by 45% as it is helping in communicating with team members, organizing online meetings, webinars, etc.
Countries and states like Italy, France, UK, Spain saw a downfall in their mobile network speed by 35.4%, 13.9%, 30.3%, 8% respectively.
As per Ofcom, there is an increase in the daytime traffic on weekdays between 35-60% since the lockdown impose.
France based Orange S.A. telecommunication MNO revealed that the demand for its mobile network infrastructure has escalated in this COVID world where 80% of the generated traffic from its users is transmitted to the USA.
We recently received a lot of requests from our existing and new customers in the wake of the lockdown in every other country. Since, MNOs are unable to visit their sites due to COVID-19 situation, they are looking for self-serviced app where they can feed in their queries to MNOs regarding mobile network speed diagnosis, etc. To help our customers in this crisis, we have developed a cloud-based solution called RantCell. It is a 4G speed testing tool that can be mass deployed enabling crowdsourcing network testing to understand the mobile network user Quality of Experience (QoE) and enhance their mobile network accordingly.
RantCell can perform mobile network speed tests with unparalleled features and capabilities that lets telcos perform accurate 4G LTE speed tests to capture download and upload throughputs. Here is an example showing the download and upload mobile network speed:
You can easily view the report in mobile network speed in data graphs i.e. line graph and bar graph as shown below:
Once the mobile network speed tests are conducted, telecom operators can share the report (in .csv format) with their colleagues through email, social networking apps, etc. to analyze the speed test results. This action can be performed by clicking on 'Export' button at the top-right side of the mobile screen. Have a look at the screenshot below: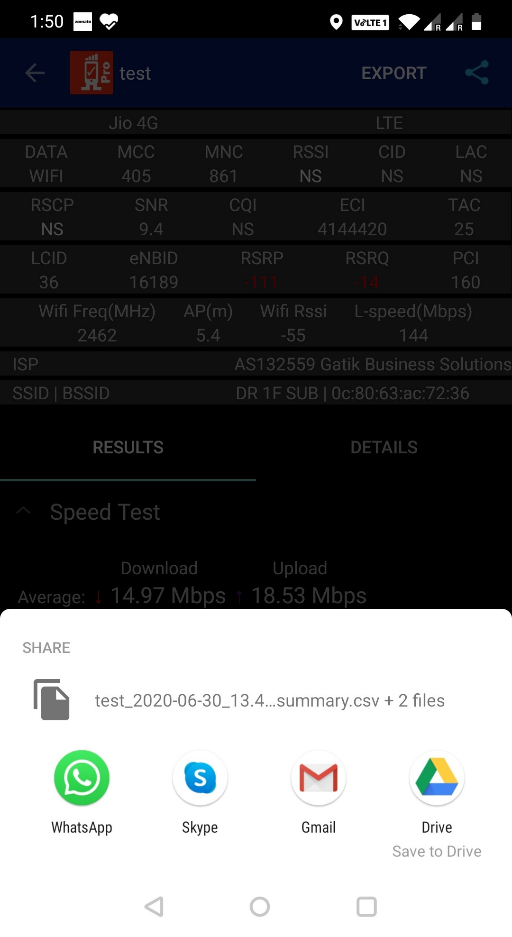 A sneak peek into the dynamic elements influencing 4G speed in Kbps/Mbps

How is the internet speed experiencing such changes as mentioned above? Let us deep dive into the key factors that are enabling alterations in 4G LTE download speed:
Congestion in mobile data consumption – Since people are ordered to stay behind the doors due to the nationwide lockdown, they are relying on phones, tablets, etc. to watch videos through video streaming technology for personal and professional purposes. This has led to congestion in mobile networks with falling speeds. Netflix recently slashed bit rates of video streaming in order to reduce bandwidth usage by 25%.
Huge demand for rural mobile network speed – Most of the people have returned to their native comprising small towns, villages, due to work from home orders. However, the rural mobile network infrastructure is not so developed unlike cities to handle the bulk of daytime traffic loads. For instance, rural paths of Ireland are dealing with mobile network outage in these times of crisis.
Avoiding risks from data overload - Telecom operators are taking preemptive measures to reduce the data load on their mobile networks. In some countries, operators have decreased their video quality, leading to a reduction in the maximum 4G speed in MBPS.
Offering discounts to customers in mobile network data packages – The crisis has changed customer behavior. People are 24x7 online and are looking for the best offers that can satisfy their data requirements. To serve such customers, telecom operators are providing relaxation in data limits at a discounted rate. Virgin Media, a British MNO decided to give 10GB of free mobile data to its ~3Million users. The company is upgrading its users broadband network package from 100MBPS (M100) superfast broadband to 200MBPS (M200) ultrafast broadband network free of charge.
4G speed test - Challenges faced by telecom operators/mobile network operators (MNOs)

The first half of 2020 had a negative impact on the telecom operators in the wake of the coronavirus epidemic. The closure of shops has led to a reduction in the number of sales in devices and new subscriber additions. On the other hand, they are continuously working to cater to the surge in demand for mobile network connectivity for businesses and consumers.
We have pinpointed some of the critical challenges that made telecom operators rethink their strategies to serve their customers in this pandemic,
The number of visits to the customer sites is decreased significantly as field engineers are unavailable due to sickness, self-quarantine, and scared of being exposed to COVID-19.

Due to the nation-wide lockdown, MNOs are unable to conduct 4G drive testing for checking the speed in the customer location. Nevertheless, they are carrying out the remote testing via RantCell app to support your 4G speed test initiatives in this ongoing pandemic where base stations are installed in client locations to examine the mobile network connectivity, saving their time and cost. These 4G speed test results can be used to augment the speed of mobile network servers, thereby facilitating increased bandwidth to bolster the data and speed demands of the customers in the current and post-COVID world.

Heavily dependence on call centers with minimal staff operating in crisis has decreased the number of customer requests received for the telcos.
A brief study on some of the leading telecom players amid COVID-19:
Verizon experienced less revenue in Q1 of 2020 amid COVID-19, but the impact is expected to be more significant in Q2 of 2020. Such economic disruption will result in customers to look for cheaper service options as Verizon's pricing is on the higher side. However, its virtual private network traffic and demand for collaboration tools soared to 52% and 47% respectively. Further, it will have less prioritization on device upgrades with limited 5G adoption for now.
The restricted number of additions in subscribers list and increased operating costs due to the emergence of novel coronavirus will stagnate T-Mobile's growth in Q2, 2020. But the increased demand in mobile network connectivity has brought new opportunities for T-Mobile to deliver wireless services. In this regard, performing a 4G speed test to enable enhanced connectivity for its users becomes critical. RantCell app is a one app with multiple RAN use cases that can conduct tests for 4G speed in MBPS/KBPS to deliver profitable 4G speed test results and customize their service offerings based on the demand of the users. It allows us to check the download and upload speed. Either telcos can use their own FTP server or RantCell FTP server that supports 200KB to 200MB file size to check the data speed. Refer image below:
You can also enter the specified time (in secs) allowing it to stop the speed test accordingly.
You can easily view the report in mobile network speed in data graphs i.e. line graph and bar graph as shown below:
Comparison/Benchmarking of 4G LTE speed test

Various mobile network operators (MNOs) are witnessing different download/upload speed amid COVID-19 outbreak. We performed a 4G speed test using the RantCell web-based dashboard. Upon completion of the mobile network speed test on the RantCell app, the report was uploaded into the RantCell cloud server that can be easily visualized on the RantCell web-based dashboard. Let us have a quick glance at the images below: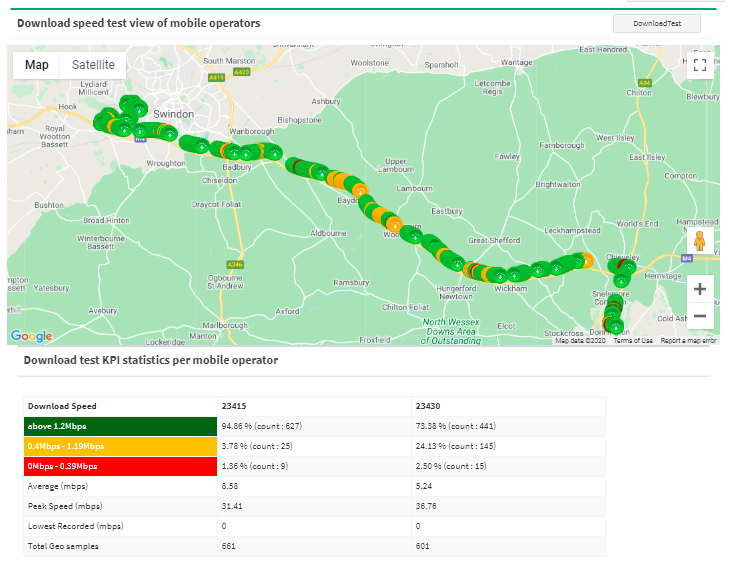 We conducted a sample download speed test with our RantCell app. The above result displays download speed comparison between two mobile network operators '23415' and '23430' i.e. Mobile network code for Vodafone and EE/British Telecom respectively. Taking into consideration the download throughput to be greater than 1.2 Mbps, Vodafone UK 4G (94.88%) delivers better download speed than British Telecom (73.38%).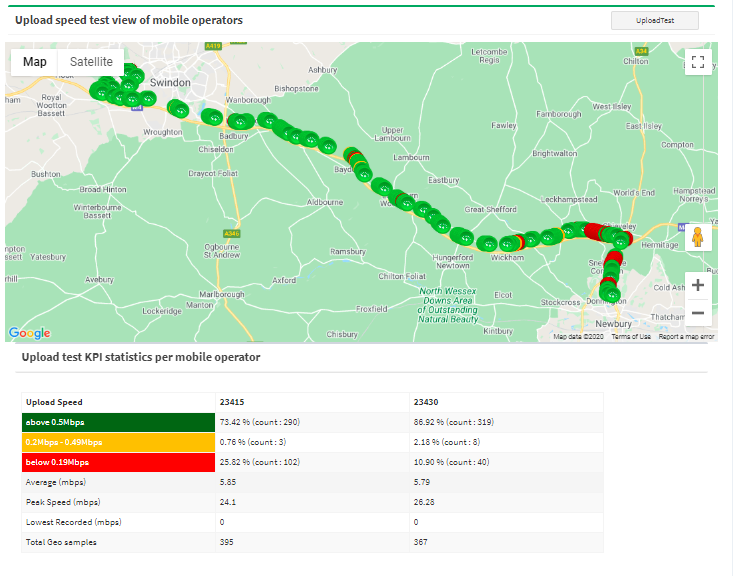 Further analysis of the above-mentioned mobile networks, we found that EE/British Telecom (86.92%) performs slightly better than Vodafone UK (73.42%) in terms of upload speed being greater than 0.5 Mbps.
In this way, we can differentiate between two mobile network operators for upload/download throughput with respect to their speed range, average speed, etc.
Deploying 4G speed test to resolve critical telecommunication challenges during the pandemic

As businesses are embracing remote working via 'Work from Home' model, they are experiencing deterioration in mobile network quality. This is creating a contagion effect across the industries. Proper processes involving mobile network speed test like 4G speed test is crucial to move ahead. They are requesting several Mobile Network Operators (MNOs) to reallocate their internet capacity from city-based business centers to town or village-based residential areas as most of the employees have returned to their homes and are residing at small areas in this pandemic.
Telecom players are eyeing for solutions that can help them sail through these distressing situations. One such solution is the RantCell solution that can pave the way for your 4G speed test demands. Leveraging this app, you can perform a 4G LTE speed test based on the user perspective on any Android device.